Toy Story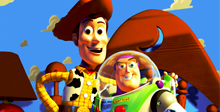 Developer: Traveller's Tales/Psygnosis
Genre:

Arcade/Action

Originally on: Sega Genesis (1995)
Also known as: Disney's Toy Story
Works on: PC, Windows
Editor Rating:

User Rating:

7.0

/

10

-

2

votes
Rate this game:

Game Overview
Some of you may be snickering at the fact we are talking about the 16-bit version of Toy Story, but let me tell you that is not cool! Toy Story is a fantastic series of movies and the majority of the games based on it (especially Toy Story 3) are great. This is the first game that was released for the franchise and it was released to go along with the first movie.
You Got A Friend In Me
The plot of the game follows the movie very well, I would say it is fair to assume that by this point you know what the deal is with the plot of the first Toy Story movie! The game tells the story through still pictures and text that look like they are taken from the movie. Even with the Genesis rather limited color palette compared to the SNES, they look fantastic.
So Close To The Real Thing
At the time the game and the movie were released people flipped out over how good they looked. For a 16-bit game, they managed to capture the high-tech look of the movie very well. I am not tech whizz, but the graphics have a kind of "Donkey Kong Country" look about them where they are 3D models, but they are in this 2D game. The main characters like Woody and Buzz look great, but so does the supporting cast along with the levels. The soundtrack is decent enough with some tunes from the movie and some original songs as well. I do wish that there was more clear speech though as that would really have put the presentation over the edge in my opinion.
Howdy Partner!
You may think that Toy Story is a game that is just trying to get by on its looks and its license, but that is not the case at all. This is a fun video game to play and there is a ton of variety to what the game asks of you. There are many different levels and at its core, I guess you would have to call it an action platformer. You play as Woody and he can use his drawstring to whip enemies and as a grappling hook to swing around.
You need to get through the levels, but most levels have some kind of "gimmick" that makes them special. Be it having to release a bunch of Army Men, riding on the back of Rex, or trying to sneak through the arcade while a soda cup is on your head. The variety makes playing the game so much more fun and no level ever overstays its welcome.
That right there would be enough, but the game keeps you on your toes by having a level where you drive RC, actually, there are multiple levels with RC. One lets you race from a top down perspective, another side on and then one from behind. There is even a kind of first-person level in the game too!
It would be so easy to look past this game as just another licensed game, but it is so much more than that. I feel the fact it came out rather late in the 16-bit era may have a bit of an effect on why not more people are fond of this game. It is a fantastic platformer, with tons of variety and it even captures the spirit of the movie it is based on very well. If you like the Toy Story franchise you have to give this game a try.
Pros:
It captures the heart of the movie perfectly
Using Woody's drawstring as a whip is a very clever idea
The game looks fantastic
I liked how there was a ton of variety to the game
It has a great sense of humor
Cons:
The game is a tad on the short side
I wish we could play as Buzz as well as Woody
Download Links
System Requirements
Processor: PC compatible,

P-200
OS:

Windows 9x, Windows 2000

Windows XP, Vista, Win 7, Win 8, Win 10.
Game Features:

Single game mode