Virtua Fighter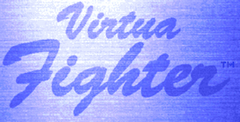 Developer: Sega
Genre:

Fighting

Originally on: Sega Genesis (1995)
Works on: PC, Windows
Editor Rating:

User Rating:

8.0

/

10

-

2

votes
Rate this game:

Game Overview
A big surprise for everyone is that Virtua Fighter is going to be released for the 32X. While there is still more work to be done on this game, you're sure to find the same level of intense and realistic fighting action as in the Sega Saturn version.
All of the fighters you remember, from Jeffry to Pai, are at your disposal. Fight your way up to Dural in a nonstop slug fest.
Use special throws and punches to debilitate your foes. It's the best you're likely to find on the 32X. This isn't a bad translation at all. Check it out.
The original Virtua Fighter from Sega started out at the arcade in the summer of '94. With the release of the 32-Bit home systems, it made its way to the home system! It started out as a pack-in for the new Sega Saturn, but now it is being released for the Sega 32X. As well, for everyone who purchased a Sega Saturn before Sept. 30, 1995, they will receive a copy of Virtua Fighter Remix, which has updated graphics and more polygons.
For all of you 32X owners who have been wondering about Virtua Fighter for your system--stop wondering, because it's here. The 32X Virtual Fighter is identical to the original in every aspect except some of the music has changed. As you can see on this page, the graphics haven't changed and the disappearing polygon problem of the original Sega Saturn version has been improved. The three-button Genesis controller isn't as responsive as the Sega Saturn's, but it still plays very well.
People say:
8.0
Virtua Fighter for the 32X looks very close to the original and it controls very well. All of the fighters are here and there are a few new things, like the different perspectives, that add a little variety to the game. While it's true that the graphics are not as good as the Sega Saturn version, they're pretty dam good. This one also has the great control that made the Sega Saturn version so good. I liked this game at the arcade, and if I had my choice, this is the one I'd want in my collection.
6.5
For the system, it's a good game. The graphics exploit the capabilities, and the sounds are your staple VF set. The control is acceptable and the characters are all there. This game even scores well in the translation category. However, the actual game itself never truly held my attention for long. Virtua Fighter fans should be pleased with yet another installment of translation action, but I recommend the arcade or Sega Saturn versions to VF newcomers.
8.5
Virtua Fighter for the 32X has its ups and downs. You'll notice almost instantly that it doesn't look as good as the Sega Saturn version, but it plays better. There are little additions to help keep things from getting boring. You can swap color palettes and there is a Special Competition Mode. The 32X also has different camera angles, none of which are anything special. Overall, it plays better than the Sega Saturn, but it's still just more of the same.
7.5
I'm sorry but the old looks of VF don't cut it any more. I may be a bit harsh but look at what else is out there: VF Remix. Toshinden. Tekken. This does play a bit better and has tons of options, but the original Virtua Fighter looks just too old. especially with Remix being out. For fans of this game, I'd say you'd like it as much or maybe even more than the Saturn version. For this arcade player, the game is a bit tired. This is an excellent version for the system but it's old.
Download Links
System Requirements
Processor: PC compatible,

P-200
OS:

Windows 9x, Windows 2000

Windows XP, Vista, Win 7, Win 8, Win 10.
Game Features:

Single game mode
Virtua Fighter Screenshots