Clone Drone In The Danger Zone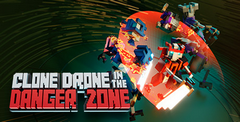 Developer: Doborog Games
Genre:

Arcade/Action

Originally on: Windows (2017)
Works on: PC, Windows
Rate this game:

Game Overview
Whether you're still human when your entire body has been replaced by a mechanical prosthetic, a sentient tin can, or a modified human, find out who you really are in the fierce arena battles of Clone Drone In The Danger Zone.
Strange Capture
Successful space programs, the mass settlement of people at all possible points of the universe and the discovery of other life in the universe - the outcome of the race for the right to occupy space has only led to new wars and new enemies. You have become just another victim of the invading ambitions of the metal Emperor of a robotic colony from another planet. It seems the tin can of brains was inspired by Ancient Rome and decided to set up a mini-Coliseum in his backyard.
Slave of iron
You were once a man of flesh and blood, but the Emperor's army has taken over your base and taken your people prisoner. Now all you have to do is choose the color of your brand-new hull, which has become your new soul home. Robots seem to love a good violent show and now your new job is to fight for the amusement of the electronic public. Stay a prisoner of the arena or make your way to kill the Emperor and freedom for all robots? What will your indomitable human spirit do?
Old rules, but new toys
The essence of the game was invented by the Romans. There is an arena and fighters in it. Only one of them gets out alive. It's in your interest to stay that one. Too many centuries have passed since the creation of this brutal game, and not to disappear everything has to keep up with the times. So now the arena is a virtual space in space, the spectators are holograms, and instead of faithful iron in the hands of a laser sword in the best traditions of Star Wars.
Ways to Fight
You can fight in the ring in four game modes at once:
Story Mode. Maybe your body can no longer feel cold or pain, but murmuring rage in your soul will fuel the metal for future great battles
Endless Mode. Eighty-six game levels and seven challenges are sure to brighten up your everyday life
Twitch Mode. Bloggers will become slaves of their subscribers, justify the bets of your viewers or get a new strong enemy from the real viewers of the robot Coliseum
Trial Mode. Your weapons are chosen by the game, whether you can survive in the arena with only a bow or a hammer
8
Epic battles, slashing robots, fighting to the last drop of oil and endless amounts of action await you in the Clone Drone Arena In The Danger Zone.
System Requirements
Processor: PC compatible,
OS:

Windows 9x, Windows 2000

Windows XP, Vista, Win 7, Win 8, Win 10.
Game Features:

Single game mode

Multiplayer (Hotseat, LAN, Internet)
Clone Drone In The Danger Zone Screenshots