House Party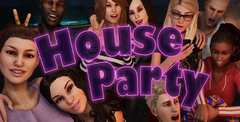 Developer: Eek! Games, LLC
Genre:

Arcade/Action

Originally on: Windows (2017)
Works on: PC, Windows
Rate this game:

Game Overview
House Party is a three-dimensional adult game where a charismatic guy will go to a party and pick up cute ladies to have sex with them.
Promotion
Sex games are a complicated business, promoting such a genre takes a lot of effort. The version of the game that is on Steam is censored. The developers' brainchild was removed again and again from this site. What is the claim of the platform the creators of sex simulator did not understand, but corrected some things until they were left on the platform. A version lives on Steam where the sexual interactions are censored, but the naked bodies remain in place.
Gameplay
The player attempts to have sex with women at a modest house party on behalf of a male character, but will have to do side tasks before doing so. House Party gameplay is based on the fact that if you say a few sweet words to a woman and woo her, any woman will be ready to go to bed with a man right away. No, not to create offspring. Just to have fun and then break up. The women in House Party are sex objects who are rudely used. They have no opinion and agree to any position if you show persistence with a couple of gestures. You can make lustful jokes about women and not get a slap in the face. For example, harassing, showing your body without consent. The maximum penalty is that the chance of getting laid decreases, but still does not disappear.
The player goes to a party and picks up women to sleep with. The gameplay takes place in and around a typical American two-story house, where people drink beer, chat and dance. Fifteen good-looking people spend their evening here. The player's options are as follows:
Move around the location
Communicate and have sex with everyone in the room
Interact with objects
Details
While people are having fun, you can play your favorite music for a more native atmosphere. Tip cup after cup, if there isn't enough, you can look in the fridge or cupboard. Check your contact book: do you have anyone to invite? Yes? You can call, then the invited guest will be on the doorstep. What to do with him, it's up to the player. The developers have tried to give each character unique traits. There's the woman who's only recently arrived and is looking to get to know each other, pining for loneliness. There's a cool local guy who is an enviable fiancé. There's a woman with a lovely exterior who grew up to be a total slut - will you get over your squeamishness to get to her body? The NPCs certainly don't act like humans, but they do try to react to the player's actions. If you do something too abruptly, the chances of a bed scene decrease, the chance of success drops. How to react to the sharp remarks of the interlocutor, how to make the baby go to bed - the player decides. The developers claim to have done a great job in simulating dating. It's up to the player to check it out and leave their feedback.
8
Good dating and sex simulator, but there are also problems - flat character and complicated interaction with the environment. Recommended to fans of Sisterly Lust and Subverse.
System Requirements
Processor: PC compatible,
OS:

Windows 9x, Windows 2000

Windows XP, Vista, Win 7, Win 8, Win 10.
Game Features:

Single game mode

Multiplayer (Hotseat, LAN, Internet)