Lead and Gold: Gangs of the Wild West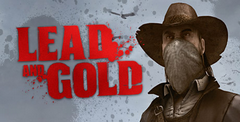 Developer: Fatshark AB
Genre:

Arcade/Action

Originally on: Windows (2010)
Works on: PC, Windows
Editor Rating:

User Rating:

9.0

/

10

-

2

votes
Rate this game:

Game Overview
Fair Play To Fatshark, there is a lot of lead and a fair amount of gold in their game. Though not as much lead as we'd like, but I'll talk about that later. Lead and Gold is basically a Western remake of Team Fortress 2, with dynamite, six-shooters, Winchester rifles, and all sorts of other cowboy paraphernalia thrown in. It's not a full-on competitor for Valve's juggernaut; though it could never really hope to be. What it will be doing is an alternative, probing gaming orifices that might not be completely satisfied by Valve's opus.
Fatshark aim to do this by toning down the weaponry, and by this I mean the guns won't be that accurate from the hip. Don't worry, you're won't miss your opponent from a few centimetres away, it's just you won't be able to snipe someone off a building with a six-shooter. You'll have to use the sniper rifle for that, but even then you have to focus your aim and prepare the shot. This is meant to prevent the Counter-Strike plague of people no-scoping you from across the level while jumping in the air. Each class, of which there are four, will have a distinct play style to adapt to.
Classy Stuff
The Gunslinger will have the six-shooter and can be deadly at close range, while the Deputy is best off used from a medium distance, as he wields the Winchester rifle. He can also tag opponents, which means a big symbol appears on your screen, indicating where said enemy might be laying in wait. If the Deputy dies, the icons disappear (as it also does after a certain period of time). There's also the Blaster, a bearded miner-type who wields a shotgun and throws dynamite about (like TF2's Demoman once promised to). Finally, the Trapper is a sniper, but she can also (as befits her name) lay down bear traps to incapacitate unsuspecting players who might try to sneak up on her.
Another interesting idea is the concept of synergy, which is a kind of buff effect for your character and, most importantly, those around you. Stand next to a character with a maxed-out synergy and you benefit by proxy. Blasters reduce damage taken, while Deputies increase damage done. Each class has its own specific buffing effect (see Buff Buddies) and, when a team works and sticks close together, they become a force to be reckoned with. This all ties in with the concept of the spawn flag. If a player picks up his team's flag, teammates can opt to spawn where he is (or back at the base, if so chosen).
This is all done in third-person, a decision probably taken to make playing on consoles easier. It works though, so there's no need to fret. The only problem we really foresee is that it's only, at the moment, teams can only have five members, which is a little annoying. If the maps are designed well enough, it won't be an issue, and we're sure some enterprising individuals will mod the game and change this very quickly.
Lead and Gold is only going to cost around a tenner, will be download only, and will feature a huge raft of Steam achievements and maybe even some TF2-style hat/gear unlocks in the future. One to keep an eye on, certainly.
Download Links
System Requirements
Processor: PC compatible,
OS:

Windows 9x, Windows 2000

Windows XP, Vista, Win 7, Win 8, Win 10.
Game Features:

Single game mode
Lead and Gold: Gangs of the Wild West Screenshots