Legacy of Kain: Soul Reaver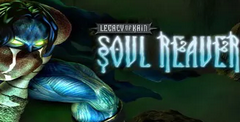 Developer: Crystal Dynamics, Inc.
Genre:

Adventure

Originally on: Windows (1999)
Works on: PC, Windows
Editor Rating:

User Rating:

8.0

/

10

-

2

votes
Rate this game:

Game Overview
As any lifestyle journalist can tell you, once you identify three similar cultural artefacts you can unequivocally claim to have discovered a trend - which means we only need one more gothic arcade game starring an undead superhero to arrive in the next few weeks for "spooky platformers" to qualify as a bona fide gaming genre, and for us to feel all smug and clever and vaguely Tony Parsons for about three minutes.
Shadow Man is the better of the two. Soul Reaver Legacy of Kain feels a little sad and superfluous by comparison, which is a shame because it isn't really too bad. Its PlayStation incarnation has been attracting the kind of rave reviews that make you feel personally inadequate for not running out and buying a copy forthwith.
On the PC, however, it's a different story. Soul Reaver is the sequel to the original Legacy of Kain and, in a pleasing twist, the overall aim of the game is to overthrow the hero of the first game. You play a disgruntled vampire cast into an alternate dimension by an equally disgruntled Kain (that hero we just mentioned), who's miffed because you managed to grow some wings and he didn't. And you had no idea the world of vampiric overlordery was so bitchy.
Anyway, having been hurled into this spooky vortex, you soon find yourself obeying a new boss known as The Elder - and then it's off you go, battling your way across the fictional world of Nosgoth and its alternate dimensions, knocking seven bells out of more or less everyone you meet along the way, and devouring souls. Yes, devouring souls. On the keyboard configuration screen there's a button for "devour souls". Cute.
Action-wise, it's a well thought-out arcade game with stylish, chunky graphics. The problem is, it feels too much like a PlayStation release ported hurriedly on to the PC. The front end is shoddy, the controls unwieldy (the directional control is confusing when you play it on the keyboard) and the graphics a little spartan - all simple geometry and close-up fogging.
But it's the roving camera that really grates. It's hopeless. It's always gawking in the wrong sodding direction, so you end up dashing wildly around, swiping at off-screen enemies like someone going postal during a game of Blind Man's Bluff. Okay, so there is a button that realigns the viewpoint to yer standard Tomb fla/derthird-person position, but every time you press it you'll be grinding your teeth to powder with frustration.
The overall feel is that you're playing the damn thing on an emulator instead of a cutting-edge PC. Okay, so making PlayStation games is pretty much essential for any software house that wants to avoid going into the red these days, but that's absolutely no excuse for pushing your PlayStation games on to other formats without taking advantage of the change. So there.
Download Links
System Requirements
Processor: PC compatible,

P-100
OS:

Windows 9x, Windows 2000

Windows XP, Vista, Win 7, Win 8, Win 10.
Game Features:

Single game mode
Legacy of Kain: Soul Reaver Screenshots