Order of War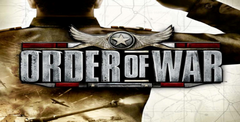 Developer: Wargaming.net, Inc.
Genre:

Strategy/Wargame

Originally on: Windows (2009)
Works on: PC, Windows
Editor Rating:

User Rating:

9.0

/

10

-

2

votes
Rate this game:

Game Overview
Armies, tanks and planes. That's the basic recipe for a war game. No surprise there. But what makes Order Of War stand out is that it's J-RPG company Square Enix's first release of a Western-developed game outside of Japan - what they call a "strategic direction".
The Cabinet War Rooms was the perfect setting for the an in-depth look at the game, where you take control of an entire army on the battlefield, based on events from the summer of 1944. In its most basic form, the single-player mode of Order Of War can be played out in two campaign modes offering different storyline, missions, objectives and environments - America vs Germany on the Western Front, and Germany vs Russia on the Eastern Front. Gameplay modes include multiplayer, Deathmatch and Skirmish modes.
In development for three and a half years, Wargaming.net have taken key elements from traditional RTS games and mashed these together with the lowdown and dirty feel of first-person shooters, to create a unique feel and look to the game.
"In Order Of War you take command of an entire army within the game so you're controlling huge scales on the battlefield - tank divisions, platoons, heavy artillery - so you get control of the entire war, not just small units on the battlefield," said Victor Kislyi, chief executive officer of Wargaming.net. "The game is historically accurate. There are two main campaigns. The first campaign that starts from D-Day in Normandy, where you take control of the US troops against the Germans, and a second campaign, based on the Eastern front, where you can play as the German army against the Soviet army."
Square Enix aim to uphold their reputation for high-quality products with Order Of War, and so the attention to detail is outstanding, with a 360° camera included to get the full battle experience. Unit-wise they've thrown in all the major WWII unit types, with lots of infantry types, machine guns, rifles and grenades, with one notable exception.
"We don't have flamethrowers. Just for the ethical reasons," said Kislyi.
Army Of 1,000
At the beginning of each mission there's a short historic introduction, which is useful for people like me who fell asleep during GCSE history lessons. Most of the campaigns' scenarios last from 30 minutes to an hour, but the later missions can take up to 1.5 hours of play to complete. Within each of these there are new tasks to complete every five to seven minutes.
"We put a lot of effort into making the player feel like they're doing something meaningful, even if he is doing a smaller task," explained Kislyi. "When this small task is over, the player will get another five-minute assignment and we'll make sure that he realises and understands what he has to do."
Instead of giving orders to individual units, you command squads of five to 10 soldiers, but as there's almost 1,000 units under your command, you really feel like a general in very big and decisive battles of WW2. To make sure you know what you're meant to be doing, a captain or general will crop up with certain advice throughout the game, plus there are gigantic red and blue arrows to guide your moves too.
But to add that final dose of realism, the plan is that you will never see two maps that are the same. "We believe that these gaming mechanics will bring a whole new strategic perspective to gaming," said Kislyi. "This one is a whole new perspective of massive engagement in huge battlefields with big guns."
Download Links
System Requirements
Processor: PC compatible,
OS:

Windows 9x, Windows 2000

Windows XP, Vista, Win 7, Win 8, Win 10.
Game Features:

Single game mode