Sleepover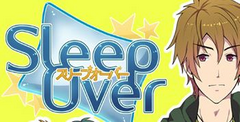 Developer: BlackMonkey Pro
Genre:

Arcade/Action

Originally on: Windows (2014)
Works on: PC, Windows
Rate this game:

Game Overview
The question "How do I make him love me?" - is probably one of the most popular questions of all time. This is the question the player faces in the erotic visual novel Sleepover. Help the protagonist get the long-awaited sempai's attention and spend the rest of the summer romantically with him.
Love thy neighbor
Usually in novellas, the player is given access to the life of an ordinary schoolboy, followed by a huge harem of childhood girlfriends, tsundere and further down the list. In Sleepover, however, the protagonist has only the choice of whether or not to show his feelings. As a result, there are only two main characters in the game:
Haruyuki Kano, the story's protagonist and a hidden member of the LGBT community. A vulnerable, hyperactive and infantile hero who will have to be led by the hand to his love story.
Hideaki Sato is the object of the protagonist's affection and the most popular guy in school. By one well-known cliché, Kano's childhood friend.
Weather on the side of love
Kano has long harbored warm feelings for his best friend, but never dared to admit it. A sudden storm and rain forced the boys to stay overnight at Sato's house. Isn't this a great chance to confess? Make decisions for the main character and make choices. Whether this night ends with a new relationship or an end to communication is entirely up to you. Whatever the choice, the relationship between friends will never be the same again.
Dating without a relationship
Not all gameplay will be tied to the sleepover. Before and after it, players have the opportunity to develop relationships between the guys, but not exactly friendships. The luckier the sleepover, the better the chances of successfully seducing Sato at it.
Love leads to bed
Since the novella is erotic in nature, it's not at all surprising that the bed scenes take up most of the game. All of the characters in both the regular mode and the erotic scenes are well-drawn. However, the usual text that describes what is happening is missing.
7
Nice visuals and beautiful bed scenes did not save the emptiness of the dialogues. Unfortunately the script in the game is severely flawed, even in terms of grammar. However, Sleepover will appeal to anyone who likes it with their eyes and doesn't pay attention to all the little things.
System Requirements
Processor: PC compatible,
OS:

Windows 9x, Windows 2000

Windows XP, Vista, Win 7, Win 8, Win 10.
Game Features:

Single game mode

Multiplayer (Hotseat, LAN, Internet)