The Chronicles of Riddick: Assault on Dark Athena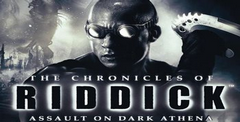 Developer: Starbreeze Studios AB, Tigon Studios
Genre:

Arcade/Action

Originally on: Windows (2009)
Works on: PC, Windows
Editor Rating:

User Rating:

8.0

/

10

-

1

vote
Rate this game:

Game Overview
That The Tiny cabal of games journalists who got a chance to sneak their way through various stages of this game were consistently wincing at the savagery of some of the attacks is a testament to the brutality of Starbreeze's new Riddick adventure. If you were to believe the Daily Mail you would think we'd be numb to the killing perpetrated by Vin Diesel's gruff anti-hero. Not so - there was some genuine wincing going on, and I was one of the chief wincers.
Those of you who loved wending your way through the ahead-of-their-time environments and settings of Escape From Butcher Bay will be like pigs rolling in their own filth when you play Assault on Dark Athena.
How To Polish
The game feels just like how we wanted it to. While Starbreeze have been chipping away at Butcher Bay's rough edges and trying to refine what was already an excellent game model, it hasn't slipped and carved out a big chunk of goodness.
At this stage, everything seems to be present and correct, which is probably the best news you might want to hear. The opening menu is even the same spinny cube thing that proved so popular from Butcher Bay. Some things will have changed (eg the collectable cigarette packs have gone, to be replaced by security card-type things). The combat is still as visceral as before. Punch somebody in the face and a bruise appear. Slash a blocking foe with a blade and his arms will get cut up.
The weapons are a mixture of the basic (fists and knives) and the fantastical (Ulaks - strange handscythe things that you wouldn't want to get anywhere near). Other nice graphical touches, other than the obvious texture and environmental improvements, include blood from your enemies staining your weapons and fists after a gruelling bout of combat. One negative is that the depth-of-field effect might need a little bit of polishing, as the version we saw didn't get it right.
The game follows directly on from the original's fortress-fleeing escapades, with Riddick spending the majority of his time (though not all) lurking in the environs of the titular Dark Athena, an intergalactic slave ship of evil.
While most of the game will involve you avoiding the enemy, before cracking their heads open like boiled eggs, there will also be moments of human contact. Just like with Butcher Bay, loads of money has been invested in getting character animation and voice-acting just right. We don't know if Starbreeze got Vin Diesel acting classes, but they have accurately replicated the mannerisms of the actors (at least the famous ones) in the game. At the preview, we all identified Lance Henriksen from his character's movements before we were told he was in it. As with Butcher Bay, this attention to performances adds tip to creating a movie-like atmosphere and feel to the game.
Jagged Edge
PC owners should also rejoice in the fact that the game looks like it could actually be more suited to our chosen system than it does to the current generation of consoles. Ranged combat should be much easier with a mouse, as should navigating through your collection of weapons. Also, the whole thing should look much better too, with the somewhat jagged edges of the nonantialiased console version being replaced with the smooth lines we know and love.
This time out, there'll also be a multiplayer component, although very little has been said about that. The nature of the engine and the game design indicates to us that it won't be going down the 64 players-per-server route and could be more in keeping with Doom 3s more minimalist approach, but there's nothing yet out there to confirm our feelings just yet.
There's one more important thing you need to know about too. If you do choose to buy Dark Athena, you'll also be getting the full version of Escape from Butcher Bay with it, absolutely free. This is more than just a cheap marketing gimmick though, as the entire of the first game has been redone in glorious hi-def-o-vision and, even more superbly, it has a few of Dark Athena's new features worked into it. Fan, as they say, tastic.
Being One Of the many who was put off playing Escape From Butcher Bay by the licence (surely the opposite of what licences are meant for?), my first foray into a Starbreeze game was console-only shooter The Darkness.
This game was dark, moody and oppressive, where the good die, the bad die horribly, and the worst of the whole lot is your character. I wonder if the team pulled the legs off spiders. As I learned from The Darkness, and which is carried on here, Starbreeze are masters of writing and characterisation. These Riddick games really show the Chronicles Of Riddick movie for the disorganised mess it was. Characters are the scum of humanity, but believable scum. While the stories are basically just Riddick escaping from places, but there are loads of interesting sub-plots going on.
Fortunately the game is good fun to play too, although it does get on my nerves the way the game forces certain scenarios on you. The best bits are when you can choose between stealth and gunplay. Having the choice taken away is like snatching a Twix away from a toddler and giving him a Penguin biscuit instead. It's good, but not as good as the Twix. That said, there's an incredible amount of variation on show here, so it just never gets boring. One minute Riddick's disembowelling corrupt guards, then he's blowing away Borg-like drones, then he's stomping around in a mech... in space! Most games would be happy to do any one of these genres this well.
Granted Dark Athena has loads to do, plenty of violence, good writing, animation and acting, and the coolest anti-hero around, but it's not as good as Butcher Bay; missing a lot of that game's adventure-like moments, but still giving lots of brutal fun. I just wish there was more Twix and less Penguin.
Download Links
System Requirements
Processor: PC compatible,
OS:

Windows 9x, Windows 2000

Windows XP, Vista, Win 7, Win 8, Win 10.
Game Features:

Single game mode
The Chronicles of Riddick: Assault on Dark Athena Screenshots