The Incredible Machine: Even More Contraptions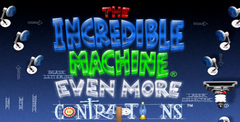 Developer: Dynamix, Inc.
Genre:

Logic/Puzzle

Originally on: Windows (2001)
Works on: PC, Windows
Editor Rating:

User Rating:

8.7

/

10

-

3

votes
Rate this game:

Game Overview
There have been numerous Incredible Machine games before this, but for those who have so far managed to avoid their charms it's best to start with a bit of an explanation. Simply take a disparate set of objects (fans, mice, monkeys on bicycles, etc) and connect them together in such a way as to complete a certain task. Say, getting a ball into a hole by dropping a bucket onto a mouse-wheel to make it run to a lamp to nudge a dog to crash a car to injure a girl to bring the doctor to fall in love to steal my girlfriend. Bastard! 13 per cent.
Lets Start Again
In the puzzle genre, its logistics veer towards the other end of the spectrum from the likes of Tetris. In fact, if you want a modern-day comparison it's actually more like Commandos. No, really. Ignoring the lack of real-time planning, it takes the same method of utilising a variety of individual tools to produce a fully formed result. Even though the path through your task is essentially limited, there's (slight) room to manoeuvre, to develop different tactics in a linear solution. While each puzzle has parts that fit together obviously - fire lights fireworks, ropes are tied to balloons - there's scope for a degree of experimentation, meaning you sometimes don't need to use the same pieces in the same order as the official solution.
There are 210 levels plus a helpful 50 tutorials, playable in any order. And while easy and medium can be completed with no problems in a day or so, the difficult and expert levels are going to take a while longer. Or if, like me, your grasp of physics extends as far as knowing that gravity stops the sky falling down, a good deal longer than that. Even when supplied only with what you need, some tasks initially look impossible and are often only solved by manipulating pieces previously thought to be incompatible.
Presentation appears well-polished, although the over-enthusiastic American voice (amazingly for this type of game, it's not ein stereotypical German vacky provezzor) may grate after a while. Rather annoying, though, is selecting parts on screen. Draw the cursor over something and it'll helpfully highlight it, but it won't always be the piece you want and you then have to pull out the pointer and try again to carefully penetrate your intended part. It's particularly irksome when trying to manipulate gears inside belts. Mind you, this is a problem that plagues the original too.
Oh No! More Contraptions
EMC faces the same problems Lemmings: Revolution did. After an endless procession of sequels, it's still nothing more than the original polished up for the modern market. What makes this worse is that it is also an add-on pack to an earlier title. The puzzles may be new, but there's only so much you can do with the idea before you start coming back on yourself. The only real direction to go now is probably 3D. Fans of the original or its sequels are going to feel mildly miffed as there's nothing intrinsically new in here. Which isn't to say it's a bad game for TIM virgins. The concept of physical action/reaction puzzling offers a pleasurably sedate experience for those of a logical persuasion. And given it's only a tenner, it's good value indeed. Nevertheless, if you've played the previous game, avoid this, as it's probably only worth 47 per cent it you've already got its predecessor. However, if you've yet to experience an Incredible Machine game, then its fiendish puzzles should keep you gripped for a good few weeks.
Download Links
System Requirements
Processor: PC compatible,
OS:

Windows 9x, Windows 2000

Windows XP, Vista, Win 7, Win 8, Win 10.
Game Features:

Single game mode
The Incredible Machine: Even More Contraptions Screenshots