Tilt!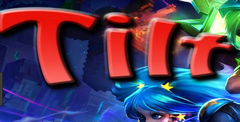 Developer: NMS Software Ltd.
Genre:

Arcade/Action

Originally on: Windows (1995)
Also known as: hyper 3-D Pinball
Works on: PC, Windows
Editor Rating:

User Rating:

8.0

/

10

-

2

votes
Rate this game:

Game Overview
Tilt is an attempt to bring pinball to the computer rather than making a computer pinball game. That's what it says here, anyway. So we're talking realism. At least this means it won't be warping us into some virtual underpants and make the balls rattle around inside the pilch, or anything. I don't think so, anyway. All these pinball games are starting to seriously affect my health.
Table mountain
It comes with six tables, all with short, snappy but curiously evocative names. Monster, as you'd expect, presents a Nigel Kennedy/Eric Hall theme, with the background made up entirely of violins, overly-gelled haircuts and outrageously expensive, sickening yellow jackets. Roadking is about the life of Sir Somebody Macadam, inventor of tarmac as well as discoverer of the macadamia nut. See him rise to prominence during the Depression while people in flat caps starve to death; see his committed support of the Conservative party; see them give him a knighthood in return; etc etc. Funfair is a celebration of the gum-chewing halfwits who stand behind you on the Waltzer doing their impressions of the banjo player from Deliverance and trying to impress chicks by making them vomit. Gangster is about dressing up in baggy jeans and a string vest, and swearing to music; Sri-JT is about the adventures of a Trekkie who goes to a convention dressed as Spock and gets beaten up by Dr Who fanatics and whipped with their traily scarves. And inst & Majik is about a dyslexic advertising copy-writer's campaign for a chocolate-flavoured edible hair-care product. Actually I made that last one up. (And the ml - F.d.) All right, they're all lies. The tables are about horror films, driving, a circus, gangsters, sci-fi and hippies with swords.
Table mannerisms
The tables were modelled and rendered on Silicon Graphics workstations, and we all know what that means - about a fiver onto the price of the game. Ho ho. No. it means they 'Look Nice'. There are three different views of each table, depending on the resolution you opt for. At 320x200, you can see the table as a scrolling playfield: in other words, a forced perspective viewpoint that doesn't show all the table at once. At 800x600 resolution, you can only see it in its entirety - the only things moving will be the balls, flippers and effects. It's forced perspective, again, but is more like standing at the bottom of a table. Actually, the view's a little low for me, so you could say it's like a vertically-challenged person standing at the bottom of a table. The middle resolution, 680x480. can show the table in both of these views, along with a scrolling top-down (or plan, as they call it) view.
Relativity table
And that's basically it. The music has been specially composed in a variety of musical styles by a "leading games musician", and is belter than that in Pinball World, but not as good as The Web's. And you can say about the same about the gameplay too. There are introductory and in-game animations and the tables play reasonably well - but they can be a bit samey, and don't have the sheer depth of the single table in The Web. It's pretty good, though - and you do get six tables.
Download Links
System Requirements
Processor: PC compatible,
OS:

Windows 9x, Windows 2000

Windows XP, Vista, Win 7, Win 8, Win 10.
Game Features:

Single game mode