Trials in Tainted Space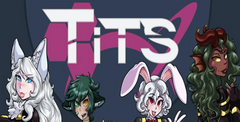 Developer: Fenoxo
Genre:

Arcade/Action

Originally on: Windows (2014)
Works on: PC, Windows
Rate this game:

Game Overview
Trials in Tainted Space is a text adventure role-playing game with erotic elements, where the player will travel through the galaxy and seduce foreign sexy beauties. The game will allow you to modify your body, discover new unexplored constellations and planets, and spend thousands of hours on the space deck watching undeveloped hot specimens.
Uniqueness
The player will find no hot photos, drawings or videos. All the power of erotica will come from the imagination. Visualize bed scenes with your imagination. Many people think it's boring, but few have tried it. Imagination works better than movies. A trained imagination works perfectly.
Prehistory
The player will become the heir to the vast fortune of the intergalactic Steele Industrial Technologies Corporation. Victor Steele is a super-rich man who will put all his technology and capabilities in the hands of the user. The player will explore objects in space and make sexual connections with local creatures.
Gameplay
It all starts with total character customization:
Extra arms
Two heads
A set of genitals
Create something. Create something that is meant to make love amidst the cosmic dust.
The writers really did their best: the variety of scenes is astounding. In the light of two suns, you can seduce a green-skinned native with three eyes, or sleep with small busty women with glowing skin.
Details
RPG implies battles. Trials in Tainted Space (TiTS for short) offers fights for character values, against aliens who oppose sexual expansion. Turn-based battles put the player in a choice: cut the evil civilization to the ground or interfere with their biological development and breed domesticated servants to quench their sexual need.
8
Trials in Tainted Space is a unique game with text-based interaction and a cool story involving the imagination to the full. Fans of Corruption of Champions, Fall of Eden, and Carnal Souls will love it.
System Requirements
Processor: PC compatible,
OS:

Windows 9x, Windows 2000

Windows XP, Vista, Win 7, Win 8, Win 10.
Game Features:

Single game mode

Multiplayer (Hotseat, LAN, Internet)
Trials in Tainted Space Screenshots