Winter Heat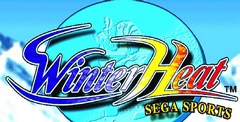 Developer: Sega
Genre:

Sport

Originally on: Saturn (1997)
Works on: PC, Windows
Editor Rating:

User Rating:

9.0

/

10

-

2

votes
Rate this game:

Game Overview
After playing DecAthelete time and time again, many of us here at EGM wondered if we'd ever be fortunate enough to play a sequel. Well, some time has passed and now we're happy to say yes.
Winter Heat gives us the same fun and excitement that DecAthelete gave, except this time it all takes place in a winter wonderland.
Winter Heat plays off of the whole Nagano craze (due to the fact that the Winter Olympics are taking place this year). But unlike other Olympic games that have recently landed on store shelves, Winter Heat takes the style of gaming back to the arcade. Gamers not familiar with the DecAthelete style of play need only think back to the days of Track & Field, and the blisters and/or callouses caused by rapid-fire button tapping.
Besides the standard finger speed test, many of the events like bobsled and speed skating have you manipulating the D-pad as well as making timed button taps.
For example, the downhill skiing event has you controlling the character down the course, tapping a couple buttons for speed now and again, and hitting another button to prepare for small, jumps along the way. Although these controls may sound they're far from that.
Before each event, much like DecAthelete, a graphical tutorial explains how the controls in the event work (and what'll happen if you don't do it right). After this, the events start and there's no looking back.
With eight characters and events to select from, you won't run out of fun too quickly. The characters, most of whom are from DecAthelete, all have unique abilities which allow them to excel in a particular event or two. On top of these original players, Winter Heat has two new Olympians for you experiment with.
Whatever character you may choose, the events will have you trying your hardest to break world record after world record. Of course, playing a relatively sporty game all by your lonesome can be tedious at times. That's why Winter Heat allows you to compete against a friend and try to beat best time, score or distance.
MANUFACTURER - Sega Enterprises, Ltd.
THEME - Sports
NUMBER OF PLAYERS - 1 or 2
People say:
9.5
I now believe that guardian angels exist. Why, you ask? Simply put, someone from above must have heard my prayers asking that a sequel to DecAthlete-my favorite Olympic game of all time--be made. OK, maybe it wasn't so much God's intervention as it was some smart person's decision at Sega. Whatever the case may be, what a great move. Winter Heat takes all of the good things of DecAthlete and adds a few aesthetic features that add up to produce one kick-ass Winter Olympic title. The camera angles, sound and control are all virtually flawless. The game's graphics aren't quite as hi-res as other Saturn classics (Virtua Fighter 2, DecAthlete, etc.), but the dramatic camera panning easily makes up for it. Sound-wise the title makes you feel like you're really flying down the slopes or trying your damnedest not to flip over in your bobsled. Then there's the control. Even though some of the events seem tricky, this doesn't stop that particular area from being a barrel of fun, and consequently a nice showplace for skill. Of course, the game has events that are nothing more than crazy tap-tap-tapping, too. As fun as the one-player game is, the Four-player Mode is where WH really shines. Only with GoldenEye and Bomberman have had this much multiplayer fun.
9.5
Winter Heat has it all: brilliant hi-res graphics, innovative control schemes for the и events and the same polish and personality that made DecAthlete so cool. The Four-player Mode makes it another must-have multiplayer game. Unlike other recent Winter Olympics titles, Winter Heat doesn't emphasize realism or technical details. It's the pure arcade fun that'll keep you breaking' records long after the snow has melted in Nagano.
9.0
Winter Heat is far and away the best of this year's Winter Olympics-style games. Each event requires different techniques with the control pad, and they're all a lot of fun. Button-tapping prowess is a must (Track & Field fans rejoice), but there's more than just that-timing Is key, especially in events like the Aerials (my fav) or Ski Jumping. WH looks and feels very nice, and with four-player support, it makes for a great party game.
8.5
Quick quiz: 1.) Do you like playing multiplayer games? 2.) Are you extremely competitive? 3.) Do you like button-mashing Track & Field-type action? If the answers are yes, then no doubt about it, Winter Heat is for you. It's a great party game for people who love shooting for high scores and breaking records. A couple of warnings: eventually, the game will get old as records become harder to beat, and it's not that much fun in one-player.
Download Links
System Requirements
Processor: PC compatible,

P-200
OS:

Windows 9x, Windows 2000

Windows XP, Vista, Win 7, Win 8, Win 10.
Game Features:

Single game mode

Multiplayer (Hotseat)