Championship Manager 3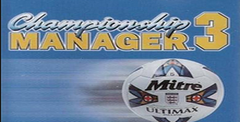 Developer: Sports Interactive Limited
Genre:

Sport

Originally on: Windows (1999)
Works on: PC, Windows
Editor Rating:

User Rating:

8.7

/

10

-

3

votes
Rate this game:

Game Overview
Players' Guide
The following hints and tips are intended to help ease the migration from CM97/98 to CM3 and guide you towards the all-important silver cup. Because CM3 has been completely rewritten, the match engine is now much more flexible, making it harder to define a 'killer' tactic. Ultimately this means you have to adapt your style for virtually each game, so make sure you concentrate at all times and don't fall into the trap of becoming complacent.
Talking A Good Game
The commentary in CM3 has been enhanced to enable you to easily ascertain the reasons behind your team's success or failure. As well as the various statistics available to you as manager (tackling, passing, shooting and so on), the following key commentary messages should be taken into consideration.
Goalkeepers
Messages about dropped balls etc highlight your keeper's poor handling ability. This is a huge weakness in the Premiership, as anybody managing Liverpool already knows.
Defenders
Messages about successful tackles (or players beating them) give an indication of your defender's skill in comparison to the opposition player involved. Bear in mind that there may be a key player on the opposing side who cannot be handled by a single defender (Alan Shearer, for example). In this case it may make sense to have two players man-marking him - one defender and one midfielder work besl.
If opposition players are getting shots in but the commentary suggests that they had very little space to do so, this j indicates that your current tactic is closing them down successfully, if not actually retrieving the ball. If you'd rather get the ball, try pressing a little bit harder or, alternatively, ask your team to tackle harder, although this increases the risk of fouling and giving away penalties - not to mention yellow and red cards.
Midfielders
You get messages about passes leading to shots (especially where the commentary mentions easy chances or tap-ins), or about lots of passes going astray. If your forwards are getting marked out of a game, get your midfielders to make runs into the box in classic Paul Scholes/Bryan Robson fashion.
Attackers
Messages about shots where a goalkeeper was off his line tend to indicate a player with good anticipation and vision. If the commentary indicates that strikers have little space in which to work, the defence is closing them down successfully. If this happens, find players with better off-the-ball movement, or edit the players' runs to try and shake off their markers.
Shiny Happy Players
In a similar manner to CM97/98, happy players perform slightly better than unhappy ones. The following factors can affect a player's mood. Contract How happy the player is with his current contract. Squad Status How he is perceived within the club. Bear in mind that if you give a player a false squad status (ie tell him he's an important first-team player and then leave him in the reserves) he's quite likely to kick up a stink. Appearances How regularly he plays for the team.
Searching For Players
As in previous versions of Championship Manager, finding decent players for your team is of the utmost importance. The search filters should be on the following settings when looking for your perfect player. In general, if most of your requirements match up, consider purchasing the player for your club.
Reserve Teams
For the first time ever, reserve teams have been implemented which enable you to test out new purchases and young players in unimportant games. Reserve-team games mirror your first-team league games and are played on the day before the first-team match. The results of reserve matches have no real bearing on the game, and don't affect the board's opinion of you. However, remember that they do have a very real effect on the development and mind-set of the players involved in the matches.
Use your reserve team for players recovering from injury (those with an orange 'Ini sign), or young players who aren't yet ripe for the first team. Be careful though - players over 24 years of age may get annoyed if left in the reserves for a prolonged period of time, although the old squad rotation system excuse might fool them for a while.
On The Training Ground
Another first in CM3 is training. This has been implemented in such a way that you can either ignore it in which case your assistant manager or head coach (depending on who is available) keeps your players training sensibly, or you can decide to take control of training yourself and subtly influence the way in which your team develops.
Style Challenge
As in real life, the tactics you use should be determined by the players available, and not the other way around. There's probably a certain way you want to play, but ultimately the best way to do this is to slowly change the players in your team to reflect your own personal style. At least now you can appreciate what it's like to be a new manager coming into a club, with a bunch of no-hopers he doesn't really want.
Picture Perfect
You can use any BMP as the background in CM3. Here's how...
Take your picture and turn it into BMP format using a paint package of your choice (the picture must be 800x600 in size, and 16 million colours).

Place the file in a safe directory (eg C:temp). Try to put all your BMP files in the same location.

Click on Load, then Background Bitmap.

Select the BMP you wish to convert from the directory you specified, and it appears instantly on the main screen. If the picture looks wrong or is corrupted in some way, check your BMP file.

To save this picture into CM3 RGN format, click on Save, then Background Bitmap. Name the file then hit OK.
What we thought
"The fact that CM3 boasts the biggest (and arguably the most accurate) player database ever assembled In a game of this sort goes a long way towards making It the best football management game available today."
What you think
People say:
"The new match engine is very nice, but overall the game still feels a little incomplete and is in fact still severely flawed. "I have reached a stage where something totally ludicrous has happened. Having played for five seasons with Arsenal, winning the Premiership, the Champions League and the FA Cup, I thought was doing pretty well. I then started a new season with two wins and a draw, won the Charity Shield, the European Super Cup and the manager of the month award, and was then sacked by the board! This is ridiculous. The Collyer brothers should have held the game back even further to correct these flaws. As it stands, CM2 97/98 is still the more complete and addictive game."
"Incredible game. I use it as a personal football encyclopedia for finding out about teams and players that I'm just about to watch on TV. It's not just a game, it's a multimedia miracle!"
"Having just bought the long-awaited CM3,1 am bitterly disappointed to say the least. Apart from the fact that it has a tendency to crash and is laboriously slow, It's also too easy. In my first season I won the double with Arsenal, and now I'm scaling the dizzy heights of the Premiership with Wimbledon! Is it an overrated game, or am I just too damn good?"
Download Links
System Requirements
Processor: PC compatible,

P-100
OS:

Windows 9x, Windows 2000

Windows XP, Vista, Win 7, Win 8, Win 10.
Game Features:

Single game mode
Championship Manager 3 Screenshots