Getting Over It with Bennett Foddy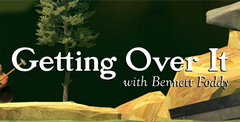 Developer: Bennett Foddy
Genre:

Arcade/Action

Originally on: Windows (2017)
Works on: PC, Windows
Rate this game:

Game Overview
Getting Over It with Bennett Foddy is a physics-based, complex indie puzzle game that will make anyone clench their jaw and bang their fist on the table in anger. The developer gloats on the game's Steam page, "I created this computer game to make you suffer." It's rare to hear slogans like that in the gaming industry, and it's not the fault of the information bubbles that keep fans of different genres from hearing each other. There really are no such slogans. So what is the game behind such a provocative title? The short answer is Getting Over It with Bennett Foddy. The long answer is below.
Diogenes
The main character's name is Diogenes. Ring any bells? People who are interested in something other than Counter-Strike: Global Offensive and DOTA 2 know that Diogenes was a thinker who lived in antiquity. The philosopher was banished from his home settlement for making counterfeit money. Then he lived in a barrel and would not come out of there because he glorified asceticism. Ascesis is a way of life that involves giving up unnecessary goods.
In Getting Over It with Bennett Foddy, the main character sits in a huge metal cauldron and does not want to get out either. The man's external features indicate his physical strength:
Muscular neck
Strong arms
Broad shoulders
Gameplay
In the hands of the character is a large hammer used to break a rock. It is impossible to understand why he is in this situation, but the player has the task of getting to the very top by the objects, controlling the tool in the character's hands. The player starts on the ground, then travels to different worlds and finally ends up in space. On YouTube, one gamer completed the entire game in two minutes. The novice player won't make it through the first three obstacles. An experienced player will make it through in about twenty minutes.
8
Getting Over It with Bennett Foddy is a game that can scare away its extreme difficulty. A player who has played for a couple of hours can't help but reach the end. The user quickly gets sucked into the challenge. We recommend it to fans of Jump King and QWOP.
System Requirements
Processor: PC compatible,
OS:

Windows 9x, Windows 2000

Windows XP, Vista, Win 7, Win 8, Win 10.
Game Features:

Single game mode

Multiplayer (Hotseat, LAN, Internet)
Getting Over It with Bennett Foddy Screenshots