Star Trek: The Next Generation - Birth of the Federation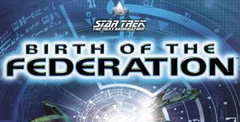 Developer: MicroProse
Genre:

Strategy/Wargame

Originally on: Windows (1999)
Works on: PC, Windows
Editor Rating:

User Rating:

8.0

/

10

-

2

votes
Rate this game:

Game Overview
As a fleet of Star Trek games prepare for battle with The Force of a certain blockbuster, the galaxy breathes a sigh of relief that none of them are based on the atrocious ST: Insurrection film.
Birth Of The Federation, if you hadn't already guessed from the screenshots, is a turn-based strategy game in space, with more than a passing reference to the classic Master Of Orion 2. Although it's based on the Next Generation series, BOTF doesn't follow any preset storyline or include any of the characters from the TV programmes.
Resistance Is Futile
If you're put off by the words 'turn-based' and 'Star Trek TNG', you shouldn't be. Real-time strategy doesn't have the same scope for depth and complexity as turn-based gameplay, which is why real-time games are either action-orientated or include the option to slow down time (not very effective for suspension of disbelief). If you want a truly immersive and thoughtful gaming experience, you should learn to accept turn-based strategy. In the meantime, the Next Gen setting provides a recognisable background and a set of well-defined, rounded aliens without any of the series' bad jokes and overwrought sentimentality. You get the feeling that there is a real universe out there, populated with distinct races - an environment in which you are completely free to act as you wish.
Neighbours From Hell
Choosing to lead one of five races (the human Federation, Klingons, Romulans, Ferengi and Cardassians), you can customise your game from the size and shape of the universe to the technological level at which each race begins. Whatever level they start at, each culture can only speculate about the possibility of life on other planets until they go exploring. The maps are randomly generated, so whoever you choose, you never know who your neighbours are going to be. How you play the game, and how other races react to you, largely depend on who you choose to be. If you play as the Ferengi, the emphasis is on trading. Playing as the Klingons involves kicking arse, rather than using diplomacy - as a result, other races fear you and are unwelcoming towards you. You get the idea.
Even if you don't know anything about the Star Trek universe, every time you meet a new species you're given a diplomatic report explaining their main traits and ambitions, although this report is inevitably tainted by your race's own views.
Juggling Planets
Birth Of The Federation combines a mixture of war, diplomacy, spying, resource management and research. How much time you spend on each is up to you, but you won't get anywhere unless you strike a successful balance. Obviously, if you play on a large map, you have time to concentrate on research before you encounter other cultures, while playing on a smaller map means almost instant conflict.
One of the game's biggest triumphs is the diplomatic aspect, where impressive use of artificial intelligence ensures a realistic response to all your actions and requests. From the Diplomacy screen you can access information on all the races you've met, along with their current attitude towards you (from enraged to worshipful), as well as information about alliances and wars declared.
You need to form friendly relations before you can trade with another system, which then provides you with a much-needed economic boost. The more credits you have, the faster you can build ships and structures and the more you can win over other races.
Through the Research screen, you can decide which areas to concentrate on, as well as investigate the comprehensive tech and object database. This section is a real hard-core Trekkie encyclopedia and, in its own right, will no doubt keep fans occupied for hours on end.
If you've always wanted to know how antimatter fusion works, or fancy impressing your mates by knowing what the hell quantum epitaxy means, then the encyclopedia is the place to look.
Battle Stations
As BOTF is a turn-based strategy game, it's no surprise that its battle sequences are somewhat lacking. These are also turn-based and, while it's good to see your ships in 3D (you can zoom in and rotate around them to your heart's content), the clashes aren't that spectacular and are over far too quickly. It's often a case of whoever has the meanest ship wins, so even if you can issue commands every turn, there's little tactical thinking to do.
But there's so much more to Birth Of The Federation that we can forgive this misdemeanour. We've been playing the game solidly for a week now and we're still finding surprises. We won't spoil them for you, though, because a key to the addictive nature of the gameplay is the discovery of these little secrets.
From the start, you're absorbed by the number of things to see and do - such as going from system to system, terraforming planets and making them habitable, or finding a wormhole leading to the other side of the galaxy and seizing the advantage of having a far-flung outpost as part of your jurisdiction (we could almost see the look of bewilderment on the Cardassians' faces when our Romulan fleet decloaked in the middle of their territory).
Then there are all the surprise messages that keep cropping up (natural disasters destroying structures, wealthy citizens dying and leaving you their fortune, spatial anomalies and all that), not to mention the appearance of the dreaded Borg. And, of course, there are all those lovely ships and structures that become available after you've researched them. And handy new special abilities brought into play by recruiting new members to your empire... The amount of detail is astounding.
Birth Control
If you think BOTF looks rather confusing, we have to concur that it is - at least for the first couple of hours. But the whole thing clicks into place after some practice. The interface is well thought-out and essential menus are only a click or two away.
At the end of the day, BOTF is not only the game Star Trek tans have been praying for, but also an essential purchase for hard-core strategy nuts. While there may not be any proper Star Trek characters to control and send on missions, in terms of depth, presentation, playability, immersion and sheer wonder, Star Trek: Birth Of The Federation is light years ahead.
Download Links
System Requirements
Processor: PC compatible,

P-100
OS:

Windows 9x, Windows 2000

Windows XP, Vista, Win 7, Win 8, Win 10.
Game Features:

Single game mode
Star Trek: The Next Generation - Birth of the Federation Screenshots