Tekken 6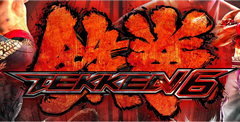 Developer: Namco Ltd.
Genre:

Arcade/Action

Originally on: Windows (2009)
Works on: PC, Windows
Rate this game:

Game Overview
The demon gene can never leave the Mishima family, which means massive battles are coming in the fantasy fighting game Tekken 6. Stop the plans of corporate head Jin Mishima and free the world from the awakening of Azazel, an ancient demon buried beneath the sands of the desert.
New Tyrant
Jin Mishima emerged victorious from the last battle and takes the post of head of Zaibatsu "Mishima" from his grandfather. However, contrary to people's expectations, the young head of the corporation has become the same tyrant his grandfather and father were. Jin started a war to show everyone his superiority. Even his own father put a huge bounty on his head. Jin responded with another Iron Fist tournament. However, the Tekken fighters, led by Lars Alexandersson, stage a rebellion against Jin.
Awaken Evil
Three opposing forces, three factions capable of dividing the world among themselves. How will the conflicts of such dangerous and powerful men be resolved? And how is an ancient demon, whose tomb rests among an endless sea of sand, connected to all this. Lars Alexandersson and Raven will try to get to the truth, even if the way to it has to be beaten out of Tekken's best fighters.
New Faces Among the Sands
Every new installment of Tekken is not without new characters. And this sixth installment may offer not only new fighters, but also an antagonist who is not blood-related to the Mishima clan:
Alisa Bosconovitch, a humanoid robot whose face is entirely copied from the late daughter of her creator. Alisa assists Lars in his adventures, but can easily be reprogrammed.
Bob Richards - an American fighter, who was a fat man back in the first installments, is back in a new form and with new knowledge of martial arts
Jack-6 - the new model of Jack series robots, he is sure to demonstrate his new skills on the enemies
Lars Alexandersson - Heihachi Mishima's son and leader of the Tekken Force Rebellion
Zafina - descendant of the ancient defenders of Azazel's tomb, astrologer and powerful mage
Azazel - ancient ruler of heaven and earth. Was overthrown by mankind and captured in a temple that was lost under the sands and became his tomb.
All new characters except Azazel are playable and will even appear in future installments of the Tekken series.
9
Destroy an ancient demon, stop the plans of Jin Mishima and try to survive the impending apocalypse in the iconic Tekken 6 fighting game.
System Requirements
Processor: PC compatible,
OS:

Windows 9x, Windows 2000

Windows XP, Vista, Win 7, Win 8, Win 10.
Game Features:

Single game mode

Multiplayer (Hotseat, LAN, Internet)