Urban Strike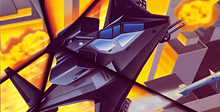 Developer: Electronic Arts, The Edge
Genre:

Arcade/Action

Originally on: Sega Genesis (1994)
Works on: PC, Windows
Editor Rating:

User Rating:

9.0

/

10

-

2

votes
Rate this game:

Game Overview
We've beaten Desert Strike and conquered Jungle Strike. Now Electronic Arts has announced the latest in this series.
It's called Urban Strike. As you can probably guess, you travel to heavily populated areas trying to accomplish missions similar in nature to those in the previous games.
Like Jungle Strike, you can use different vehicles, like the classic chopper and miniature plane, or even set out on foot. In Urban Strike you'll be going to some of the most well known spots in America like New York and even Las Vegas. For those of you who are trigger happy, you'll have a real blast in more ways than one.
Electronic Arts has improved on the old theme, making Urban Strike an action cart that you probably won't want to miss.
WAR! Hunh! Good God, y'all! What is it good for? Well, in real life it's not good for much, but in the world of video games, it's can sometimes make for a killer of a time - which is exactly the case with Electronic Arts' new exercise in air-to-surface mega-mayhem, Urban Strike.
If you're at all familiar with the series, you'll know that the Strike games are EA's attempt at creating a Chuck Norris-type of franchise, only this time instead of the silver screen, it's the TV screen. The third entry into the series is just as cool as the first two, and - like a good sequel should - it improves upon the past.
In Urban Strike, you play the commander once again, and this time...it's personal. Your good friend Agent Ego has been killed while investigating terrorist/presidential candidate R.H. Malone's funny business, and you're out to stop Malone's maniacal schemes and hand him a beatdown while you're at it. Before you start on the first mission (in the jungles of Hawaii) you pick a copilot out of a pool of many and then it's showtime.
You'll start your first mission in a Maverick helicopter, which is equipped with the latest weapons (all of which are guaranteed to turn a terrorist into a crispy snack) and a winch to snatch armor, fuel, and weapons refills. The point isn't just to fire as many missiles as you can, though. Every mission has a variety of requirements that you must fulfill before going on to the next one, and this feature makes Urban Strike one of those games which might make your head spin due to the planning and tricky flying you'll have to pull off. As you complete missions, the story line unfolds, you get a chance to try out different vehicles and you also change locations (hey, it's called Urban Strike, you didn't think you'd have to spend all day in the jungle, did you)?
Even if you're not a fan of B-grade war movies, you should give Urban Strike a go, 'cause you'll probably get into it in no time. If (like Crispin Glover) you're a big Chuck Norris fan, all of your friends will probably start to get annoyed by the sounds of your shameless gushing.
Graphics
You can't go wrong with an awesome 3/4 display in my book. This game looks great and it scrolls great. The explosions are pretty awesome -you'll probably start blowing up stuff just to see 'em.
Sound/Music
Very cheesy electronic rock score detracts from the audio mayhem of raining bullets and exploding helicopters. Slayer, Napalm Death or maybe the Ramones would be the appropriate music to put on in the background.
Playability
Addictive, to say the least. Being able to choose between "momentum" or "no momentum" for the chopper controls is cool (but momentum is the most fun). The controls feel like you're caressing something you shouldn't.
Lowdown
One of the best games to come down the pipe recently. Urban Strike really has the feel of those low budget B-movies which I tend to enjoy, so naturally I was hooked. Everything is here: cool graphics, challenge and solid playability. Rent a couple of old Cannon movies to get into the mood and then immerse yourself in the top notch entertainment of Urban Strike.
Urban Strike is a helicopter game.
Urban Strike is the third in EA's long running series of helicopter action games. An evil genius named H. R. Malone has started a cult and managed to gather millions of followers. Malone is using his influence and wealth to build a super weapon with which he will overthrow the government. You will once again suit up and take control of various types of helicopters to stop Malone's evil scheme.
Urban Strike is the first, and only, game in the Strike series to feature non-vehicular combat. In some levels you will leave your helicopter and proceed on foot.
You have to control helicopters and fun down enemies as well as gathering supplies and fulfilling other mission objectives. Each mission requires you to do something different and the password system allows you to carry on a game where you left off if you don't have time to complete it all in one go.
Urban Strike game features:
The Sequel to Jungle Strike features exciting helicopter combat and nine levels of play
Various pilots and gunners to utilize
A password save system
3 levels are on foot
Download Links
System Requirements
Processor: PC compatible,

P-200
OS:

Windows 9x, Windows 2000

Windows XP, Vista, Win 7, Win 8, Win 10.
Game Features:

Single game mode