Comix Zone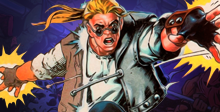 Developer: Sega
Genre:

Arcade/Action

Originally on: Sega Genesis (1995)
Works on: PC, Windows
Editor Rating:

User Rating:

10.0

/

10

-

2

votes
Rate this game:

Game Overview
Your name is Sketch Turner and you are an artist. You and your pet rat Roadkill enjoy sitting at home and drawing. That is until that one night when you are hard at work sketching your latest comic book. All of a sudden your book is struck by lightning! Your main bad guy comes to life and teleports you into the pages of your own comic book.
Now you must battle through the pages of the story you created. You will not be alone though--Roadkill is at your side. Find various helpful items as your journey progresses. You are going to need all the help you can get when you reach that final Boss who was supposed to be the king of all baddies.
FIRST IMPRESSION
My first impression when I started playing this game was one of interest. The concept of a play-through comic book was not used frequently in the past and I was interested in seeing how they might have tackled this challenge.
BEST FEATURE
The many different ways that you could solve a puzzle interested me. Also, with multiple paths comes multiple challenges.
WHAT'S MISSING
The graphic power of this game is not exactly top, but is pretty far up there. Also, the game itself is kind of difficult with the way that you lose energy from punching and kicking! Better not get hit too many times or it could mean a quick death.
WILL YOU LIKE IT?
If you like the comic-book idea and enjoy adventure-type games you will like this addition. Action, adventure and puzzle-solving are all rolled into one for this game. The humor included in the game will also attract other players.
People say:
8.5
Comix Zone is one of the better action games for the Genesis. It doesn't sound like a Genesis game at all, and there are lots of colors. The theme is cool, and the different pathways are a real plus. The fighting interface is a bit too loose, and for some reason you lose life a little too easily. Still, this is an action game that has a fresh concept. It has enough original ideas to keep you glued to your set. Comix Zone is worth the price of admission.
8.0
In an age with so many 'me-too' games. Comix Zone demands to be noticed with its totally unique look, feel and style. Although I think I've seen this idea in a few cartoons, this is the first time in a video game and I'm quite impressed. The control is pretty good, the sounds aren't the typical Sega rehash and the on-going dialogue thrusts you into the dark and seedy world of a comic book... or something like that. You should check this out, if only for its originality.
7.0
Al first, I thought the idea of a comic creator going into his own pages and fighting his fights was a bad one. But after playing this game for a while, I found that it actually is a pretty good game. I like the constant dialogue in the game. 1 also like the comic-like graphics. Some of the special visual effects are kind neat too. The various items and weapons are cool as well. The only bad side is that the play control needs a little work, but it's still passable.
8.0
This is a very original of game. Sure, it's basically a side scroller, but the comic look and frame concept works very well. Also, the graphics are very colorful, especially for the Genesis. There isn't any exceptional fighting, but the look of the game carries it. The only drawback is the fact that you can get hit a lot, so you die a bit too often. Still, it has a fresh look to it with a very original way of traversing to the next level. Comix Zone is a definite must-try.
In Comix Zone, Sketch Turner is just a "starving artist" comic book writer/rock musician trying to get by. Things are going okay for Sketch until the day that his most fiendish villain, the evil Mortus, comes to life. Mortus uses his evil methods to pull Sketch into the comic and switch places with him in the real world. Once in the comic book, Sketch meets the heroine of his comic, Alissa, and his adventure begins.
The game progresses linear through each page of the comic book, however secret paths and alternate routes through the story can be discovered. At the end of each level, Sketch receives a super hero rating for how well he's progressing.
In Comix Zone you control Sketch through three Episodes, each consisting of two levels. A variety of moves can be used to fight against the thugs that Mortus draws to fight you right before your eyes. These include the serial high tornado kick, the uppercut, the floor sweep, the whirlwind jump kick, and more. You are also able to pick up special items like knives, grenades, bombs, superhero icons, and even your pet sewer rat, Roadkill, who is always willing to help his master.
Comix Zone is an extremely original and visually impressive game which immerses you in a comic book world. It's probably one of the coolest games I've ever seen on the Genesis. The idea behind it is that the comic's author has magically switched places with the book's villain. Your hero moves from frame to frame and page to page as a large hand draws new villains for you to fight. The remarkable graphics are nearly comic book quality, with bubbles of dialog that appear every so often. Gameplay involves fighting monsters, picking up objects, and opening new areas. The game also features some kick-ass music and multiple pathways. I think this is a highly underrated game.
Download Links
System Requirements
Processor: PC compatible,

P-200
OS:

Windows 9x, Windows 2000

Windows XP, Vista, Win 7, Win 8, Win 10.
Game Features:

Single game mode