El Viento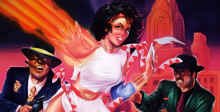 Developer: Wolfteam
Genre:

Arcade/Action

Originally on: Sega Genesis (1991)
Works on: PC, Windows
Editor Rating:

User Rating:

5.0

/

10

-

2

votes
Rate this game:

Game Overview
If there is someone here who played Earnest Evans, then this game shares the same fictional universe, only few years later. This is New York 2028, to be more specific, when a madness leader called Henry wants to awaken the sleeping god known as Hastur. Bringing Hastur back to life would have been the end of the mankind, so the main characters of El Viento had to stop Henry. Annet Myer and Earnest Evans are the two characters who try to stop the villain from doing a big mistake. Sounds simple? Well, it's not. The game was fun, but quite difficult at some points.
Set in the 1930's, El Viento by Renovation is a great action game for the Genesis. An evil storm is washing down upon New York. The worshippers of Hastur, an evil outer world being, are planning to sacrifice a young girl to resurrect their evil liege. A young woman named Annet, must destroy the cult and their ambitions to rule the world, wielding a boomerang and powerful magic.
People say:
8
El Viento has got one of the greatest combinations of hot graphics and play action I've seen in some time. While the theme is straight sidescrolling, the action is presented with smooth animations, plenty of risk incentives and more than enough challenge! A winner in my book.
8
They've done it again! Renovation will never quit making good carts, will they? El Viento has similar tie-ins with a Power Blade-style of combat and a backdrop filled with alien factions and awesome cinema displays! Great graphics and incredible play makes this a winner!
7
This cart has great game play along with stunning graphics and superior tunes. The best thing in this cart is the explosions and awesome end Bosses. Wait until you see the bubble boss in motion, it's totally cool! Well balanced game play makes this a superb action title.
8
El Viento is a great addition for anyone who liked Valis 3. The basic action is similar to that megahit, with intense magic options and well produced graphics and sounds. A killer cart from start to finish that impressed me from beginning to end! Thumbs up!
As Annet, you are trying to shut down the Hastur group and prevent them from resurrecting their evil wind god, Hastur. The god's followers have hired mob boss Vincente DeMarco to stop you. DeMarco's goons are versatile, deadly, and incredibly fast. It will take all the video gaming prowess you have and a lot of practice to succeed in your mission. As Annet you will run, climb stairs and ladders, scale buildings, prance across roof tops, and fight desperately for your life. The controls are excellent in this game, so all the paces you put your character through are smooth and easy. Easy, that is, if it weren't for all the bad guys trying their hardest to kill you.
El-Viento's graphics are good. The animation is much better than anything else you seen on the Genesis console. Annet's headband blowing in the wind as she dashes to her foes is amazing or the way she quickly turns around is both vivid and gorgeous. Also one will notice right away the enormous and pixilated soup Wolf Team calls explosions. They're big, orange, and very boxy - when they're on a single frame. But Wolf Team's animation of the explosions looks wonderful as the gaseous matter pulses and bursts with stunning changing colors. There are many of these explosions present in the title, so they may become cumbersome as they take up almost the entire screen. The anime still shots are breathe taking. Well drawn characters with emotions fleshed out through expressions. Additionally the bland colors give a dark and dreary tone to this story of cults, death, and evil. It's an excellent way to give the mood of the characters to the gamer.
El-Viento is a difficult game, but as Annet you are equipped with the skill, the magic, the weaponry, and the agility to progress to the next level and the next, ultimately running the Hastur group out of town for good.
Download Links
System Requirements
Processor: PC compatible,

P-200
OS:

Windows 9x, Windows 2000

Windows XP, Vista, Win 7, Win 8, Win 10.
Game Features:

Single game mode
El Viento Video
Subscribe

Gamefabrique game channel
on YouTube.