Garfield: Caught in the Act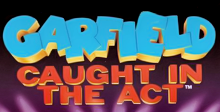 Developer: SEGA Entertainment, Inc.
Genre:

Arcade/Action

Originally on: Sega Genesis (1995)
Works on: PC, Windows
Editor Rating:

User Rating:

8.0

/

10

-

2

votes
Rate this game:

Game Overview
Who doesn't love Garfield, the fictional fat and lazy orange cat from the comic series of Jim Davis and, later, the movie? Well if you love him, you will love this game as well. Although the game was released more than 10 years before the movie, it is still fun to play. Garfield can attack enemies and throw objects at them. The story follows Garfield, who was sent into the television by a robot called The Glitch. Now he is in and has to fight enemies to make his way out and return to Jon in reality.
The coolest cartoon cat around is finally in his own video game cartridge. Those folks at Sega have whipped up a wholly entertaining adventure starring that lasagna-scarfing cat.
Garfield must adventure through a number of themed levels that are based on episodes of the cartoon show that you're probably familiar with.
Garfield is animated smoothly, and there are lots of cool little effects that make it seem cartoonlike.
Garfield looks like it'll be a lot of fun. Besides, it's on Genesis.
People say:
8.0
Garfield has the humor and animation of the cartoon. The graphics are top-notch, the sound is pretty good for the Genesis and the levels are themed. I can't heip having visions of Gex every time Garfield is sucked into his TV. The game-play--for the most part--is decent, but it's very hard for you to avoid hits from some of the enemies. This is one of the games that will keep the Genesis around after the next-generation systems hit. Garfield is cool but sometimes cheap.
4.0
I don't mind playing a difficult game, as long as it's difficult for the right reason. A game is supposed to be challenging enough to keep your interest, but not so impossible that no matter how many times you go through a given level, you're still going to get hit by the same enemies. Garfield would have been an enjoyable game to play, but due to loose control and mandatory hits, in the end it turned out to be more frustrating than anything. I suggest skipping it!
6.0
When first seeing this, the average person would think that it is a cute game with great animation and graphics containing Garfield, Odie, Pookie, etc., but it isn't. Throughout the game there are cheap and mandatory hits that would drive the average person insane. The game control is slow and loose. This might be the reason you take so many hits. If Garfield had more range with his swing and was quicker, it would be more tolerable and significantly easier.
6.0
The title of this game should be changed to 'Garfield And The Tale Of Automatic Damage.' It has way too many cheap hits to make it enjoyable for the younger .audiences it is aimed at. The character graphics and level originality are very good, but still don't make up for sloppy control. Cheap hits and a bad control interface really bother me and Garfield has both of them. If you don't mind these flaws try it out, but Garfield has really rubbed my fur the wrong way.
The graphics are used nicely at every parts of the game. The colours are used in variety to make that certain place look more dangerous or scarier! Backgrounds are okay with the normal colours and other stuffs that are used in almost every action game like this. The animations are definitely superb! How Garfield moves and attacks and other enemies and characters animate is really cool!
Garfield has good sound effects. From the electrical buzz coming off of the possessed television set on the title screen to the "chomp chomp chomp" of the chattering teeth inside the TV set that gobbles you up everytime you, um, bite it, you'll find that the aural effects do the trick to convince you that you've entered the Garfield dimension (scary thought, huh?). Stand out sounds are the growling, grumpy old man in the window in Catsablanca, the "cheesy" landing sounds you make in Cave Cat, and the heavy breathing sounds of the tongue outstretched, resting, almost dead Garfield. You can tell that Sega's got some very talented people working in their audio departments. The music changes to fit the theme of each level.
A superb action game starring Garfield and friends! This game is definitely fun!
Download Links
System Requirements
Processor: PC compatible,

P-200
OS:

Windows 9x, Windows 2000

Windows XP, Vista, Win 7, Win 8, Win 10.
Game Features:

Single game mode
Garfield: Caught in the Act Video
Subscribe

Gamefabrique game channel
on YouTube.
Garfield: Caught in the Act Screenshots