Age of Mythology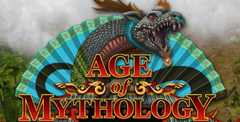 Developer: Ensemble Studios
Genre:

Strategy/Wargame

Originally on: Windows (2002)
Works on: PC, Windows
Editor Rating:

User Rating:

10.0

/

10

-

2

votes
Rate this game:

Game Overview
In Summary
Age Of Empires gels mythical and goes 30 in this latest title. The familiar elements of the vastly popular series have been rigged to a new 30 engine to create a graphically lush and richly detailed affair, sure to satisfy the most aesthetically demanding God complex.
Whats The Big Deal?
Any RTS player will tell you that playing an Age Of Empires game is an unavoidable rite of passage, like getting drunk on Malibu. You never forget your first elephant. Killing one that is, and it was from these beginnings that Age Of Empires blossomed Into a franchise that's sold over 8.5 million copies worldwide.
It was only a matter of time before Ensemble Studios' baby, the Age Of franchise, unscrewed its 2D stabilising wheels and pedalled into the big, bad world of 3D. This time they'd like to take you back, way back, to a time of myths and legends, when a Neptune special was more than just a pizza and Mercury wasn't just a man with bad taste in shoes.
Age Of Mythology uses the same civilisation-based gameplay as its predecessors, Age Of Empires and Age Of Kings, but takes the action back to the ancient Greek, Norse and Egyptian cultures, divided here into nine detailed empires. Many of the features for Mythology, such as the economic structure, the creation of military units and the enhanced AI as demonstrated in The Conquerors, is of the same ilk as the two previous Age Of games and so fans of the series should feel at home. Ensemble is really touting the 'mythology element, which seems to be a crossover between Zeus and the long departed Seven Kingdoms. You'll be asked to choose which God you'd like to worship and will be granted a corresponding set of powers and specialist units. You'll be able to boost your armies with creatures like minotaurs, griffons and giants, and persuade heroes like Odysseus, Hercules and Beowulf to engage in some freelance fighting. Provided you can keep in with your bosses, you'll also receive the occasional blessing bestowed from on high. Bruce Shelley, co-founder and senior game designer for Ensemble Studios, says: "Our game puts players in ancient civilisations where praying for luck in battle, fighting Cyclops or petitioning Zeus to call down lightning bolts on the enemy are real occurrences."
Apart from the superb visuals, Age Of Mythology is also set to distinguish itself with more story-based campaigns, which promise to be more heavily character driven and cinematic than in the previous games. Campaigns will include quests to seek out hidden goodies such as the Golden Fleece and the Hades' Helm of Invisibility, taking you from vast deserts to deep in the belly of the underworld. The game also boasts more than 20 advanced AI opponents, 15 map types, 13 game variants and five starting conditions in the multiplayer mode, which will undoubtedly allow it to follow in the footsteps of its older siblings with a strong online following.
Ensemble's new 3D engine looks like it's been put to good use as well, with realistic tornadoes, earthquakes and volcanic eruptions promised. And of course there will be hundreds of beautifully detailed units, executing many more attacking and defensive manoeuvres than the popular 'sword poke' of previous games. "Age Of Mythology's 3D engine delivers an experience beyond anything we've been able to create previously," claims Shelley.
The Age Of series has become something of a multi-headed hydra over the past few years. Even though it's only one franchise it has always felt like more, because as soon as you've recovered from your addiction to one game, another pops up in its place to suck your life away again. This latest venture looks like the acid test for Ensemble Studios - they've wallowed a bit too long in cutesy sheep-herding warfare while others have pushed the genre forward, and now have more to prove than ever. May the luck of the gods be with them.
Download Links
System Requirements
Processor: PC compatible,
OS:

Windows 9x, Windows 2000

Windows XP, Vista, Win 7, Win 8, Win 10.
Game Features:

Single game mode
Age of Mythology Screenshots