Sonic Jam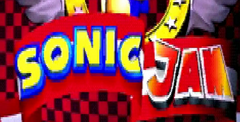 Developer: Sega
Genre:

Arcade/Action

Originally on: Saturn (1997)
Works on: PC, Windows
Editor Rating:

User Rating:

10.0

/

10

-

4

votes
Rate this game:

Game Overview
Ever since the mediocre Sonic Blast title (mediocre for the Saturn, but great on the Genesis), loyal Sega buffs have been yearning for the "Blue" to really be back. Well, it's going to be just a little longer, but at least Sonic Jam will tide you over until "Project Sonic" unveils itself.
Sonic Jam is a compilation disc packing in the first four Sonics including Sonic and Knuckles. You'll also be able to play with the features you got from putting the Sonic 2 and 3 cartridges into the Sonic and Knuckles cartel The cool 3-D gameplay you see here in these screens is apparently from a Level/Game Select starting point similar in style to the Namco classic discs. This playable stage, full of rivers, spring jumps and lots of floating platforms, was great and showed that the Saturn still has some surprises left in it. The camera angles move much in the same way as Mario and the action is controllable with the Sega analog thumb pad. So take a look at what this level has to offer, because this is what the next Sonic title for Saturn (not Sonic Extreme) will most likely look like come its projected release in September. Till then, it's only up to Sonic Jam to keep our hedgehog appetites healthy!
Move over Mario All-Stars. Step aside Namco and Williams Classics. Here comes the long-overdue Sonic Jam, a I compilation of four of the most popular blue hedgehog games around. Sonic Jam for the Saturn features Sonic the Hedgehog, Sonic 2, Sonic 3 and Sonic and Knuckles. Sonic Jam also shows off a short 3-D level that should have Saturn owners drooling in anticipation of the system's future.
Sonic Jam is a two-part disc. The first part is a Sonic fan's dream: four complete classics, all with new features. Each game has been slightly enhanced graphically and audibly. You can also enter a Time Attack Mode to see how quickly you can complete each of the levels. Sonic Jam will also allow you to go directly to the bonus stages. And for the paper-phobic, electronic manuals are included-you can read all the original instruction booklets right on your TV screen.
Sega took more steps in improving the actual gameplay of these oldies but goodies. First, Sonic can now do his Spin Dash in the first Sonic game. Second, you can play Knuckles in any of the Sonic games (previously, the Sonic and Knuckles lock-on Genesis cartridge was only backward compatible with Sonic 2 and 3).
The most exciting part of Sonic Jam, however, may also be the most disappointing. Sonic World, a virtual museum of sorts, is a fully playable, fully interactive 3-D world in which Sonic runs around and picks up rings while visiting key buildings. These locations will take you on a tour to see various Sonic paraphernalia. You can check out artwork, sound clips, toys, books, etc. Sounds good, so why is it disappointing? This 3-D mini "game" demonstrates that the Saturn has what it takes to compete directly with Mario 64. It looks and plays that good. But it's only one level and not a whole game. After testing it out, it'll only leave you hungry for more.
The good news is that this Sonic World demo hints as to what the next original 3-D Saturn Sonic game will look and play like. Sega says it's no longer going to be called Sonic X-treme, but it will be a true 3-D, free-roaming game that should silence any critics.
EGM is pretty excited, but we can't help but wonder how much better the Saturn could be doing today if this potential killer-app came out two years ago with the Saturn's launch. Perhaps if this upcoming 3-D Sonic game would've come out with the launch of the Saturn, it could've done for Sega what Mario 64 did for Nintendo 64's initial sales.
MANUFACTURER - Sega
THEME - Compilation
NUMBER OF PLAYERS - 1 or 2
People say:
7.5
It's official! The buzz word is "archive." Now with so many collection CDs out there, it's getting harder and harder to review them. After all. this is the same set of games we've loved for years! Luckily for Saturn owners. Sonic Jam comes with the best Game Select Screen ever created; a preview of the upcoming 3-D style future Sonic games will use. As you explore the small area, you'll be presented with a set of sub-missions that get progressively harder. These missions become a new game of sorts, which are quite enjoyable to overcome. Completing all the missions opens up what we call the "Credits World." Along with this innovative area. Sonic 1. 2 and 3 users can now choose Knuckles instead of Sonic to create a new challenge. The Spin Dash has been added to Sonic 1 as well. This feature changes the perfectly emulated 16-Bit games into slightly new versions. So. if you're one of those players who traded in your Genesis for a Saturn, you can enjoy the "Blast-Processing" of yesterday...with a twist. True, these games are outdated, but they are classics, and owning all the Sonic titles on one CD is pretty handy. Whatever you do. don't buy Sonic Jam for the 3-D World Select Screen! Buy it if you're looking for classic 16-Bit gameplay for everyone in the family.
8.5
The Genesis was my first 16-Bit system back in the day, so I have a soft spot for Sonic in my heart. Sonic Jam is a must-have for any fan of the original attitude-having' animal. It has practically everything that is Sonic the Hedgehog. Not only are there the old games in all of their 16-Bit glory, there's the cool museums, sound and art libraries and Sonic info.
8.0
I love compilations that compile only grade-A games. Sure the 16-Bit Sonic games may be old but they're still very playable today. Add to that a very fun Sonic World minigame, and you have a very solid CD. Two things that could've made Jam even better: more of the 3-D word (this one's a teaser) and upgraded graphics (a la Mario All-Stars, only for 32-Bits)
8.5
It's easy enough to find minor faults with this collection: same old graphics, same old music, no Sonic CD. But who cares? Replaying these classes in their original form (even the cheat codes still work!) is too much fun. Plus, now you can Spin Dash in the original Sonic, as well as cruise through an ultracool 3-D world filled with secrets and mini games.
Download Links
System Requirements
Processor: PC compatible,

P-200
OS:

Windows 9x, Windows 2000

Windows XP, Vista, Win 7, Win 8, Win 10.
Game Features:

Single game mode

Multiplayer (Hotseat)