Dead Rising 4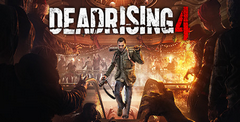 Developer: Capcom Game Studio Vancouver, Inc.
Genre:

Arcade/Action

Originally on: Windows (2016)
Works on: PC, Windows
Editor Rating:

User Rating:

8.7

/

10

-

3

votes
Rate this game:

Game Overview
How do you make Dead Rising 4 stand out from the open world and grander scale of Dead Rising 3? Well, that is actually quite simple, you bring back Frank! The fact that the original game's protagonist, Frank West was back made fans of the series very excited for Dead Rising 4.
Merry Christmas
One of the stranger aspects of Dead Rising 4 is that I would actually class this as a Christmas game. It is kind of like the whole, Die Hard is a Christmas movie thing! Anyway, the game is set in the year 2022, years after Frank had his "experience" at the mall. He is now working as a professor and he gets sucked into this story about experiments on zombies.
As you would expect, things go horribly wrong and Frank once again finds himself in a shopping mall with thousands of zombies. I actually really liked the story that Dead Rising 4 told and I think that it made Frank more of a heroic character than just a cool one like he was before.
Playing It Safe
One of the criticisms that were thrown Dead Rising 4's way when it was released was just how familiar it all felt. There really is not a ton of improvement over what Dead Rising 3 offered and I have even heard some people refer to it as a more of a Dead Rising Greatest Hits than a full new game and I do think that is a fair criticism. There is no doubt that kicking zombie butt (and evil organization butt too) as Frank West once again is an absolute blast. Having the ability to save where you like and also being able to make crazy weapons and vehicles like you could in Dead Rising 3, but as Frank is really cool.
As you play through the game you will have to deal with thousands of zombies and of course, crazy human characters like Frank had to deal with in the first game. Also, though there are these safehouses that you can take care of too. So, like previous games, there is a lot for you to do in Dead Rising 4.
The World's Greatest Detective
One thing that I think was a very good idea, in theory, was to use Frank's journalist background more in this game. Frank is trying to get to the bottom of what is happening here and expose those who are responsible so he is required to do some detective work in Dead Rising 4. He uses his camera in what the game calls, "Scanning Modes" it is kind of like the Detective Mode in Arkham Knight. I really liked the idea of this, but the game never goes super in depth with it. While the Dead Rising series is all about action. I actually liked these sections of the game and would have liked to see them expanded upon.
Is That Frank West or Iron Man?
Another great feature that I feel could have been done better was the exo-suits. The people you are trying to expose have these really cool exo-suits that help them get through hordes of zombies. Frank can get his hands on these, but they do not last long enough. These are so much fun to use and I would have liked to have been able to really cut loose in one of these and do some major damage.
7.5
Dead Rising 4 is seen by some as a disappointment. I think that is a really harsh criticism and that the game is a lot of fun. While it may not be doing anything radically new, playing as Frank West is a real blast. Also, the story and Frank trying to bring people to justice is actually something I really did enjoy and I thought the ending was great. While it may not be the best Dead Rising game. I do feel that Dead Rising 4 is worth a playthrough, especially around the holiday season as slaying zombies in a festive setting is sure to put you in the Christmas spirit.
Pros:
Frank West is back
The story is very engaging
The festive feel to the game is a lot of fun
More over the top zombie slaying action
You see Frank's investigative journalist side
Cons:
Dead Rising 4 does play it really safe
Some of the new ideas could have been expanded upon
Download Links
System Requirements
Processor: PC compatible,

P-100
OS:

Windows 9x, Windows 2000

Windows XP, Vista, Win 7, Win 8, Win 10.
Game Features:

Single game mode
Dead Rising 4 Screenshots