The Walking Dead: Season Three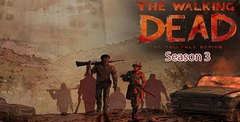 Developer: Telltale, Inc.
Genre:

Arcade/Action

Originally on: Windows (2016)
Also known as: The Walking Dead: Season 3
Works on: PC, Windows
Editor Rating:

User Rating:

9.5

/

10

-

4

votes
Rate this game:

Game Overview
The Walking Dead: Season 3 or as it is really known, The Walking Dead: A New Frontier moves the story on a few years. Fans of the series were waiting for what felt like forever for this game. I would say that it is fair to say that of all The Walking Dead games that Telltale released, The Walking Dead: A New Frontier has the most mixed reception of all the games.
Many Years Later
I think that the story of The Walking Dead: A New Frontier is fantastic, but I also think that some people were not willing to give the game a chance before it even came out. This game is actually set a few years after the events of The Walking Dead: Season 2. As a result, Clementine is now a teenager, but Clementine is not the main focus of this story!
Take Me Out To The Ball Game
The Walking Dead: A New Frontier actually has two playable characters. The series introduced a new protagonist called, Javi is a former pro baseball player. He is a family man who is trying to do all that he can to help his brother, his brothers' wife and kids to survive. Before the game was released many people were not sure about bringing another character into the mix and I think those people had a problem with the game before they even played it. Actually, Javi is a pretty interesting character and I really liked what they did with his story arc and think that it all worked out well.
Bring Back My Clementine!
Clementine is still playable in The Walking Dead: A New Frontier, but she is a very different Clementine to the one we last saw at the end of The Walking Dead: Season 2. First of all, I love the way the game carries on from Season 2 and you can tell that some stuff went down with Clem and the person you survived with back in Season 2. Clem is now looking after baby AJ from the second game and one thing that I think they do very well is have parallels to Clem and AJ which make it a similar relationship to the one that Lee and Clem had back in the first season of The Walking Dead.
Forget The New Frontier! This Is A New Engine!
Ok so maybe saying that this is a whole new engine is going a bit far (although I think it actually is) however, Telltale Games by this point had things nailed and as a result, this is a very smooth experience. There are very little technical hiccups like the first two games were known for, not that those spoiled the experience for me. The core gameplay is the same as it has always been. It plays just like a point and click adventure. You will talk to many different characters and the things you say and do will alter your relationship with them. Like the past games, there are some major decisions that you will have to make which can really make some big changes, even lead to characters deaths!
I think that the third season of The Walking Dead gets a bit of a bad rap. Of course, the highlight has to be still getting to play as Clem, especially an older more battle-hardened Clementine. However, I do enjoy the story arc with Javi and think that he was a pretty cool character too. By this point you knew exactly what you were getting with a Walking Dead game and while I do not think it is as good as the first two seasons. I do think that The Walking Dead: The New Frontier is a great experience.
8.5/10
Pros:
The game runs very well
Javi is an interesting character to play as
Playing as a slightly older Clementine is great
Lots of hard choices for you to make
Another solid entry in the series
Cons:
Not quite as epic as the two that came before it
If you do not like Javi, the game will be hard to get into
Download Links
System Requirements
Processor: PC compatible,

P-100
OS:

Windows 9x, Windows 2000

Windows XP, Vista, Win 7, Win 8, Win 10.
Game Features:

Single game mode
The Walking Dead: Season Three Screenshots