Dead Rising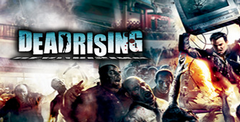 Developer: Capcom Co., Ltd.
Genre:

Arcade/Action

Originally on: Windows (2006)
Works on: PC, Windows
Editor Rating:

User Rating:

9.0

/

10

-

2

votes
Rate this game:

Game Overview
I remember what a big deal it was when Dead Rising was released on the original Xbox 360. It was touted as one of the first "next-gen" video games and it was awesome. The version I am looking at today though is the re-release that Capcom did for PC kept the fun of the original and added a few extra things in there too.
This Is Not Dawn of the Dead!
Let's start with the story, clearly, this game is inspired by the legendary Dawn of the Dead! It has zombies running amuck in a mall! The game sees you play as a journalist called Frank West. He is reporting the hell that is breaking loose when he finds himself down and stuck in the middle of it all at one of the largest shopping malls in the world. I think that the story of Dead Rising is a lot of fun and it certainly has some of that Capcom cheese that they like to do. There are some great characters in the game and more than a few twists that will keep you on your toes. Plus, there are actually multiple endings for you to get, depending on what you do in the game.
The HD Remaster
In terms of the gameplay. As someone who has played through the original Xbox 360 version multiple times. I feel that not much was added and that the main updates to the game were the slicker more HD visuals. The frame rate is pretty fantastic and if your rig can handle it, you can pretty much have it at whatever you like. While some things are not super detailed, I do feel that Capcom did a solid job in giving the game a shinier look.
Stand Back I Have A Bowling Ball!
There were two things that caught people's eye when Dead Rising was first released. First thing was the sheer number of enemies that were on the screen at the same time. Even all these years later it is a pretty crazy site to see what feels like a thousand zombies all standing before you. The other thing that people took notice of was the insane number of weapons that the game lets you use. If you can pick it up, chances are you can use it as a weapon and as this is a mall a huge part of the fun is finding stuff to smack the undead around with. Some things like a mower, for example, can be really bloody and a lot of fun to us. Weapons in Dead Rising do not last forever so you will have to keep an eye on them as well as your health. Thankfully there are plenty of weapons for you to grab in pretty much every location in the game. There are guns that you can use, but as you cannot walk and shoot at the same time these can actually put you in a lot of danger if you are in a pretty crowded area.
It Is Still Good……But
I had a blast playing through the game again, but this is a game I played back when it was fresh. The control system that Dead Rising uses can take a little while to get used to and, in some places, it can feel a little clunky. It is not game breaking or anything like that, but if you never experienced this game when it was first released you may have a hard time getting used to the game's controls. One thing that some may find frustrating is that the game has an active time system. This means that certain events will happen even if you are not there. So, it can be annoying if you get caught on your way somewhere and miss out on a scenario. While I enjoy the story some of the voice acting is pretty bad. This was released at a time when some games were getting more serious with their voice acting so it does stand out. Still, some of it is so bad that it is kind of good.
8
I loved Dead Rising when it was first released and I actually had a lot of fun with it playing it again on PC. I do think that the game holds up well if you played it before, but as I said new players might be put off a little by the old school control scheme. As I write this the game is currently 18 bucks which I do feel is a little high, but if it drops to about 10 do not hesitate, just snap this game up!
Pros:
Frank West is cool
You can take pictures that give you bonuses
Different endings to experience
The number of weapons is pretty crazy
Capcom did a good job in making the game run smoothly on PC
Cons:
It feels like an old game
The way things can happen even if you are not there is frustrating
Download Links
System Requirements
Processor: PC compatible,

P-100
OS:

Windows 9x, Windows 2000

Windows XP, Vista, Win 7, Win 8, Win 10.
Game Features:

Single game mode