The Walking Dead: Season Two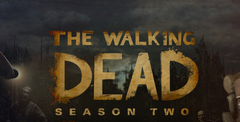 Developer: Telltale, Inc.
Genre:

Arcade/Action

Originally on: Windows (2013)
Also known as: The Walking Dead: Season 2
Works on: PC, Windows
Editor Rating:

User Rating:

10.0

/

10

-

3

votes
Rate this game:

Game Overview
I thought that it would be near impossible for the Telltale to top what they did, but The Walking Dead: Season Two arguably does that. The hype and expectations for this game were through the roof. They were so high that it would have been understandable for Telltale to have not been able to deliver, but let me tell you right away they delivered big time.
You Are Clementine
The shocking ending of The Walking Dead sees Clementine have to say goodbye to Lee. This means that you actually control Clementine in The Walking Dead: Season 2. Omid and Christa were looking after her, but things did not go to plan and Clementine ends up all on her own, where she comes across another group of survivors who take her in.
I love the way the start of The Walking Dead: Season 2 is so drastically different from the first season. The poop has already hit the fan and the game throws you right in at the deep end. The group that you meet do not trust you right away and you can tell that Clementine has grown up a whole lot since the last time we saw her.
The New Guys
Like most people, I became very attached to most of the cast in the first Walking Dead and I feel that the second season makes you care about a whole bunch of new characters very well. Luke is the all-around good guy of this group and you so want him to survive. You soon find out that this group is actually on the run themselves from a man called Carver who runs a community. I found him very similar to the way the Governor is in The Walking Dead comics and TV show.
While I like many of the new characters, for me the return of Kenny was the biggest surprise I had in a game in years. Not only that Kenny had a new wife called, Sarita. It was so great seeing Kenny and Clem back together again, but this is a Telltale game and they were not going to let you have that and be all nice and cozy! By this point, you have an attachment to Luke and the game pretty much makes you pick between the two.
That Is Brutal!!!!
The Walking Dead: Season 2 has some pretty brutal and hard to make choices for you to do. I would say that these are harder than the first game offered. The game does not hold back and some of them, especially the one right at the end between Kenny and Jane had me a nervous wreck the whole time. I was constantly second guessing what I was doing and, in the end, thankfully I felt that I made the right decision.
From hacking of people's limbs in an effort to save them to flat out having to leave people to die. The Walking Dead: Season 2 is absolutely merciless when it comes to the things it makes you decide to do.
Classic Telltale
The overall gameplay is the same as it was before. You have choices to make and those choices can have an effect on the way the story goes and also the people that are in it. What is really cool is that the choices you made in the first game, as well as 400 Days, do come into play here which I think is pretty cool.
Like the first Walking Dead game, there are some technical issues in The Walking Dead: Season 2 ranging from freezing to the game glitching and you failing to make the choice you want. The thing is I know that these are flaws, but I have always been able to look past them.
Is The Walking Dead: Season 2 better than the first one? That is really hard for me to say as I loved both. I feel that you really have to play both of these games. However, if I was being threatened by Carver with a vicious beating and had to pick… I would give the edge to Season 2, but only just. It really is a fantastic story and I liked most of the new characters, plus some of the choices it forces you to make will easily stick with you for a few days!
9.5/10
Pros:
Amazing writing and voice acting once again
The new cast is pretty great
You actually play as Clementine
Some really hard choices to make
It is an emotional roller coaster from start to finish
Cons:
A few technical issues can get annoying
Did you make the right choice?????
Download Links
System Requirements
Processor: PC compatible,

P-100
OS:

Windows 9x, Windows 2000

Windows XP, Vista, Win 7, Win 8, Win 10.
Game Features:

Single game mode
The Walking Dead: Season Two Screenshots