Warhammer: Dark Omen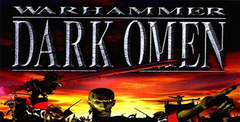 Developer: Mindscape
Genre:

Adventure

Originally on: Windows (1998)
Works on: PC, Windows
Editor Rating:

User Rating:

9.0

/

10

-

4

votes
Rate this game:

Game Overview
Dark Omen, You May Recall, Is a 3D-a-licious real-time military strategy game based on Games Workshop's ever-popular Warhammer tabletop series. And it's from Mindscape. Er, not. No, the entire project (complete with programming team) is now under the wing of the gargantuan Electronic Arts. Just to confuse the matter further, it's actually being worked on at the Bullfrog building in Guildford. With a spinning head and growing sense of confused disorientation, your faithful correspondent arrived in said sunny location, met project leader Nick Goldsworthy, and sat down for a bit of a natter and that...
Omen time for tea
For the uninitiated, a brief history lesson: Dark Omen is actually the second game to be based on the Games Workshop Warhammer licence. The first release, Shadow Of The Horned Rot, was extremely faithful - some might say too faithful - to the official Warhommer rulebook. Many elements - such as cannons which randomly backfire, killing half your troops - work well in a tabletop battle involving painted figurines, dice, rulers and a couple of your most bearded mates, yet simply serve as an irritant in the context of a fast-moving computer game. For Dork Omen, the team have been given permission to bend the rules in the interests of smooth, immediate and much more satisfying gameplay.
And when Nick mentions polish, he isn't kidding. Since g4w last had a gander at the game, Dark Omen has been given a full-on presentational makeover. The result: a once good-looking title now looks absolutely great, as you can see. Aside from some truly incredible FMV sequences (which for once actually hold the attention of the viewer rather than have them reaching for the 'skip' button), the game oozes quality from every pore. Even the menus are pretty. The game itself is even better.
What we have here is a very slick-looking piece of Tolkien-esque armed conflict, with immense battles played out on a sumptuous 3D landscape (there's a wide variety of different terrain) which the player can zoom and rotate throughout the game. The troops are faithful recreations of the original Warhammer figurines, there are plenty of pyrotechnics (courtesy of an unusual particle effect system) and more nail-biting strategic manoeuvres than you'll find in the back row of a cinema during a weekend midnight performance. All in real-time.
Zone sat and watched as Nick and a colleague indulged in a brief two-player skirmish to demonstrate some of the game's finer points. It's clear that besides being a complex strategy title, Dark Omen s also refreshingly bizarre. Aside from nulking great Tree-men (they don't live n the trees - they are trees) and loopy magical spells (one of which features a decidedly Monty Python-esque gigantic green foot, which suddenly looms into . ew and stomps upon all and sundry), there are laughs-a-plenty to be had with the living dead (entire armies of rotting corpses scrambling out of the ground tnen lining up in formation to do your adding), a magic sword which causes an enemy's brain to explode, and the xcasional innocent civilian running abound on fire. There's also true linee-of-sight (a la Total Annihilation) an unfolding storyline in single mode. Yum? Yum.
Download Links
System Requirements
Processor: PC compatible,
OS:

Windows 9x, Windows 2000

Windows XP, Vista, Win 7, Win 8, Win 10.
Game Features:

Single game mode
Warhammer: Dark Omen Screenshots